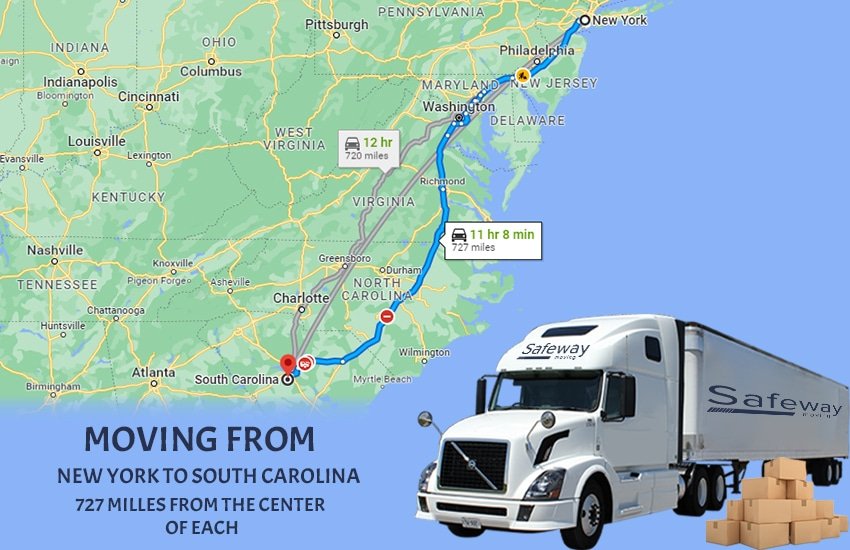 Moving from New York to South Carolina: Relocation Cost
The United States are well known for being a country where people are very mobile. Although the past two years have been an aberration, moving is once again a more common experience, although the reasons for a relocation are somewhat different than they were two years ago. Today, people are able to move to a different location without as much limitations due to work locations. Many companies are choosing to make more remote job offerings available to employees in certain types of positions. When choosing a new place to live, moving from New York to South Carolina offers a number of advantages to those individuals ready for a new location.
How Much Does It Cost for Moving From New York To South Carolina
 The cost of moving, like most other prices in the country is significantly higher than just a few years ago. The prices for moving from New York to South Carolina are comprised of the cost per mile of distance, and the size of the move. The approximate number of miles for this relocation is 725 miles over I-95 S.
The cost of a full-pack move also relies on the size of the move, usually estimated by the number of bedrooms involved. There are some other features which have a bearing on moving costs. Some of these are linked to physical features of the residence, such as multiple levels. Special permits and licenses are required in some jurisdiction. When special equipment is needed to complete the move, it affects the overall cost of the move.
When building the estimate for the move, customers may want to do part or all of their own packing in order to reduce costs. In order to determine the most accurate quote, the moving company needs as much information as possible.
What Is The Usual Cost To Move My Vehicle To South Carolina?
Driving down the East Coast from New York means over eleven hours behind the wheel. As an alternative, why not arrange to have your vehicle transported by an affordable and reliable auto transporter. 
The transport service is convenient and surprisingly affordable. There is no need to arrive at your destination tired, just in time to do the unpacking. Turn your vehicle over to the transporter in New York and pick it up at your South Carolina destination.
Storage Options And Fees
For some relocations, particularly the longer ones, it may be necessary to place your household items in storage for a time. When you are estimating moving costs, be sure that you know whether there is going to be initial fees for storage. It is important to be assured that the storage facility is clean, secure and safe, Temperature controlled units are one option which may help the condition of your items.
Check the long distance movers estimates to determine whether costs for a storage facility are included in the quote.
How Do I Pay Less When Moving From New York To South Carolina?
Even if you are financially able to pay for a full-pack move, it may be helpful to know that doing part or all of the packing yourself can reduce the overall cost of the move. Doing your own packing has other advantages, such as organizing the number and type of items you move. Here are a few cost-control factors for packing, moving, and storage of your household possessions.
Downsize: When you are moving from New York to South Carolina, chances are good that your lifestyle will change. You may have more recreational time. You might change your housing size to have more time to spend on playing. As part of your preparation process for the move. Do a careful assessment of your possessions and get rid of those which are no longer needed, functional, or suited to your new lifestyle. Sell, donate, or recycle anything that is in any of these categories, and the price of the move will be lower.
Self-Packing: Doing your own packing is a process that can be physically tiring, but has the advantage of preparing each box in relation to where it will be placed during the unpacking process. You may even find that you are moving fewer items. This packing, moving, and storage process does take time and effort at the launch location, but will save money and time at the end of the process. Boxes will have to be packed carefully, and labeled on all sides for ease of handling on moving day.
Flexibility for the Moving Date: Choose the date of your move to coincide with the least busy times in the mover's schedule. Moves which are scheduled during the late fall to early spring time period tend to have a discount applied. The same is true for moves scheduled during weekdays, or in the middle of the month.
Obtain Your Own Packing Supplies: You may be able to achieve some savings when you are able to obtain items like packing boxes, supplies, tape, and labels. Purchasing such items through the long distance movers may cost more money than if you purchase or obtain them yourself.
Is South Carolina A Good Place To Live?
Retirement Living considers South Carolina as one of the top four states to retire to. The positive features are the mild climate, reasonable cost of living and some beaches which are warm almost all year-long.
South Carolina's cost of living index figures for 2022 so far are:
| | |
| --- | --- |
| Living Indexes | Cost |
| Total | 88.5 |
| Groceries | 95.8 |
| Housing | 73.6 |
| Utilities | 103.9 |
| Transportation | 86.8 |
| Health | 102.3 |
How Do I Choose A Long Distance Mover?
When looking for the best options in long distance movers, there are many websites on the Web that can help you learn more information about the industry leaders. Unfortunately, there are too many companies that are less than honest in their dealings. Checking the reputation of movers can help you to avoid getting scammed.
Licensing and Registration: The FMCSA (Federal Motor Carrier Safety Administration) and US Dept of Transportation are responsible for overseeing the companies which are part of the interstate moving industry. The licensing and registration of interstate movers is listed on the regulatory websites, as well as details about checking credentials of companies that make up the roster of long distance movers.
Consumer reviews and complaints: In addition to regulatory agencies which define how well movers are complying with laws and regulations, there are consumer sites which present information, both positive and negative, which can tell potential customers whether the moving firm is honest and fair in their dealings with the public. Some of the websites where you can see reviews and ratings of customers include The Better Business Bureau, Google, and MoveBuddha.org.
Prices: The cost of moving from New York to South Carolina can vary significantly from one quote to another. Always be sure you know which items are covered in the move quote, and which are not. Obtain and compare, in writing, at least three companies in sufficient detail to make an accurate assessment.
Safeway Moving Systems Named Best In Value
MoveBuddha.org named Safeway Moving Systems Inc. (USDOT# 3756000) as their choice for Best Value among surveyed long-distance movers. The peer review site checked more than 500 moving companies to arrive at their ranking. Safeway Moving maintains quality assurance standards for each step of the moving process. When you are searching for details about the best military relocation professional services for moving from New York to South Carolina, check the Safeway Moving Systems Website and start the process to obtain a quote for full packing, moving, and storage costs.