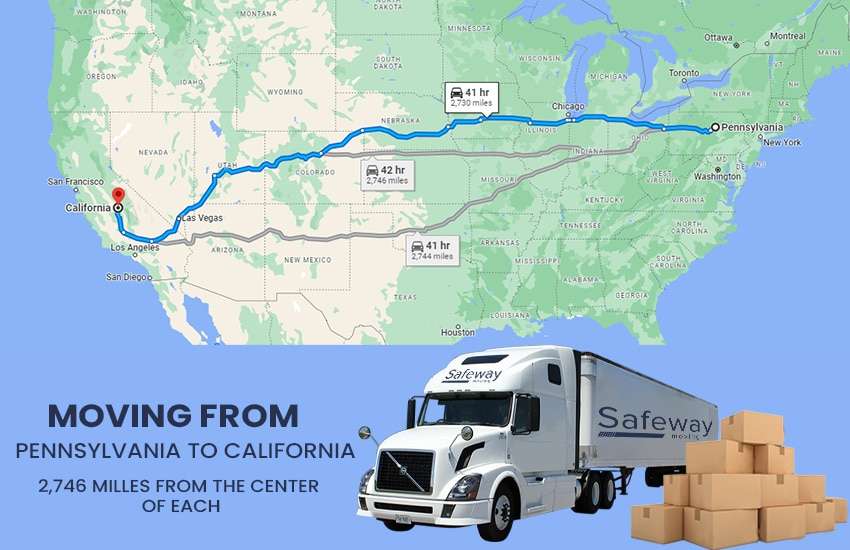 Moving from Pennsylvania to California, Cost and benefits
According to
moving company
studies, there are some reasons why people choose to leave Pennsylvania. More than one third of those leaving the state did so for jobs, another 49 percent said they were leaving because of family and retirement. Unlike Pennsylvania, with no ocean access, California is known for its beaches and warm winters. Moving from PA to California represents a very different lifestyle, climate, and demographics. Here are some facts to help you make decisions about long-distance movers.
What Can I Expect To Pay For A Move From Pennsylvania To California?
The road distance between Pennsylvania and California is 2732 miles, by way of I-80 W. The road distance is one of the two major factors which affect the cost of a state to state move. Since the route between the two states crosses many state lines, long distance movers benefits are the typical option to handle the logistics. The second component of the price quote is the size of the move.
Any factors which affect the requirements of the moving process can cause a change in the cost of the move. The size of the move as estimated by the number of bedrooms is a major component of the quote. There are additional features of the residence or its setting which can add to or sometimes subtract from the base price. For example, multiple levels involving stairs can mean special equipment, or additional personnel to get the work done safely and quickly. Outside, some jurisdictions or neighborhoods may limit the access to the residence by requiring special permits or hours of parking for moving trucks.
If the customer elects to do part or all of the packing, a lowered price from the full pack move is likely. Professional packers operate quickly, but they also cost money which is added to the base cost of the move.
What Is The Price To Transport A Vehicle To California?
Instead of driving your personal vehicles across the country, the option of having them transported by a professional auto transporter is a smart and often surprisingly economical decision. A cross country drive with dozens of hours behind the wheel in what may be unfamiliar country is not a move to be made casually.
The extra mileage on your vehicle, tires, rest, and food stops along the way is both expensive and tiring. Contact a reliable auto transporter for a price quote and know that the process is safe and easy to get your vehicle delivered to your new destination in California.
Storage Options And Prices
During the move, it may be necessary for the customer's possessions to be placed in a storage facility. The timing of the move out and move in efforts can mean storage is the best option for hours or days. When this is part of the logistics for the move, it should be clearly identified on the price quote. If additional moving or handling costs apply, the customer will need to be aware of the costs. Clean, safe, and secure facilities are expected, regardless of the location and time spent there.
How Can I Lower My Costs When Moving From Pennsylvania To California?
You may find that estimates of the cost of moving from Pennsylvania to CA are higher than you expected. In this instance, you may need to consider ways to reduce the impact of the move. Packing, moving, and storage costs can amount to a costly hit to your bank account, so finding some lower cost alternatives is a wise approach.
Downsizing: When you are preparing for your move, don't assume that everything in your current place of residence should be packed and transported to California. Most households have items which are long past a need for them. Moving from PA to CA is an excellent time to get rid of unwanted, non-functional, and unneeded items. You can place some of these things for sale and bring in a little income. If you donate usable items to a shelter or to a charitable organization, you may long benefit from tax savings. Discard or recycle those items which you don't plan to keep or take to California. You may cut the size of the move significantly.
Self-packing: Doing the packing portion of packing moving, and storage for the move yourself will result in cost savings. The disadvantage of doing this work is the amount of physical work and the time involved. Begin the process well before moving day and be organized in how you go about it. Pack items logically and in a way that they can be easily unpacked during the settling in process in California. All boxes must be carefully inventoried and a list kept in your offline records.
Flexible timing: Movers know that they are busiest during the period from late spring to early fall. When you are setting a date for moving from Pennsylvania to California, choosing a less busy time-frame may result in a lower cost for the move.
Packing incidentals: Look for savings on incidentals such as moving boxes, packing tape, packing supplies and labels. There may be free or low cost boxes available from a friend or relative who has moved. Sometimes stores give away boxes which are a good size and weight. If you have packing tape in your residence, or you watch for discounted supplies, your packing materials may cost less than going through the moving company.
Is California A Good Place to Live?
Some of the features which make California a popular place to live include plenty of sunshine, access to beaches and the ocean, and delicious food from many different cultures. California is large in size and in population so there are plenty of locations from which to choose a new residence. That is not to say that everything in California is beneficial. The cost of living index shows some of the downside factors for the state.
The cost of living index figures for 2022 in California are:
| | |
| --- | --- |
| Living Indexes | Cost |
| Total | 149.9 |
| Groceries | 105.1 |
| Housing | 234.8 |
| Utilities | 102.4 |
| Transportation | 133.1 |
| Health | 98.3 |
How Do I Choose A Long Distance Mover?
No one wants to be the victim of a scam. When looking for long distance movers, you can access various websites in order to check the professional standing, reputation, and credentials of moving companies.
Licenses and registration: The US government, through the Department of Transportation, and the Federal Motor Carrier Safety Administration ( FMCSA ) regulates and licenses long distance movers. By searching the websites, you can learn about the age of the company, its location, and ownership. There is also detail about any violations or charges.
Consumer reviews and rankings: The internet and many social media platforms provide locations to find information about the reputation of moving companies. Actual customers can find many places to praise the service they received from a company, or a complaint. Some complaints can be found at the Better Business Bureau website, or from peer organizations.
Pricing: While looking at the price quotes of various companies, be careful to compare like services when making your choice of companies to take care of moving company from Pennsylvania to California. All quotes should be detailed and in writing so you can make a choice of the best value for your money.
Safeway Moving Systems named Best In Value
When it comes to the Best Value for Money, Safeway Moving Systems Inc has been named by MoveBuddha.org as the top choice among more than 500 long distance movers. The detailed quality standards maintained by the veteran-owned company (US DOT 3756000) are part of its high ranking. Safeway is known for its ability to provide the best military relocation professional services for moving from Pennsylvania to California. When you need information on the full cost of packing, moving, and storage services, visit the company website.