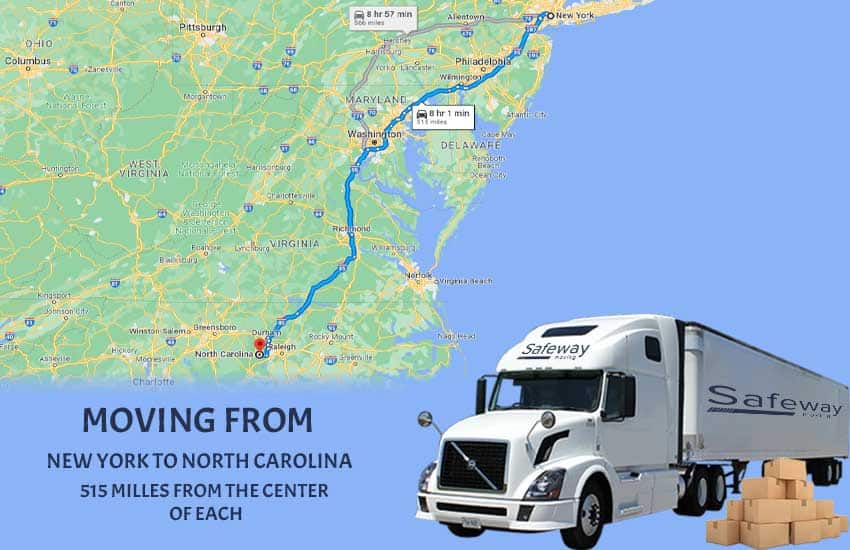 Brief Moving Guide For Moving From New York To North Carolina
No matter where you are moving from or to, moving is a major undertaking. When you have a relocation planned, planning every part of the projected move is important. Moving from New York to North Carolina is a major change in lifestyle. There is no doubt, but that New York is an example of the metropolitan area. North Carolina has a very different ambiance and lifestyle. Regardless of the destination, which is planned, preparing for the move requires more than just surface thought.
How Much Does It Cost to Move from New York to North Carolina?
For many people, the first element to consider in the upcoming move is the cost. Contacting several long-distance movers to learn about expected costs is likely to give you a better understanding of the costs you will be charged while the moving is going on. A major component of the cost will be the distance. From New York to North Carolina is a distance of 505.9 miles by way of I-95 S.
Taking on a move of this distance requires the knowledge, skills, and equipment of professional long-distance movers. The distance is known, and the size of the move is usually calculated from the number of bedrooms which are moved. There are also other factors which can affect the cost of the move. Some of these include if the residence has stairs. When steps are involved, it may require additional people or specialized equipment to complete the work. This means more costs for the move.
One other action on the part of the customer can make a difference in the overall cost of the move. Full packing, moving, and storage fees will be lower if you do your own packing. Instead of paying for a crew of professionals to do the job. You can do the work in part, or in full, and the price quoted is likely to be lower.
What Is the Estimated Cost to Move a Vehicle to North Carolina?
Driving your automobile from New York down the East Coast to Carolina requires approximately eight hours of driving time. It also means additional stresses of planning routes and fighting traffic through areas that may be unfamiliar to you. You should think about arranging for your vehicle to be picked up by an auto transporter in New York and delivered to your new location in North Carolina. This action will reduce the number of tasks that must be completed during the relocation.
The services of an auto transporter are convenient, safe, and affordable. Instead of trying to drive one or more vehicles to your North Carolina destination, have them transported by the professional team.
Storage Facilities and Their Costs
When you are identifying the costs of the moving from New York to North Carolina, be sure to check for any storage facility costs. Sometimes it is convenient to hold your possession in storage to better handle the logistics of the move. If a stay in a storage facility is part of the itinerary, you will want to see the costs in the price estimate. You have a right to expect that any facility which is utilized is clean, convenient, and secure.
How to Reduce the Cost of Moving from New York to North Carolina?
When you are reviewing the expected costs and expenses of your move, you might want to know if there are any actions you can take which would reduce the cost of the service without giving up on the quality. Here are some actions to employ that will offer ways to save money for packing, moving, and storage.
Move Less: Spending some time before the move going through your possessions is helpful in two ways. The first is to organize and discard any items which are no longer in active use. You can place items that you don't want in a yard sale or a consignment shop. You might also choose to donate items to charity organizations.
Self-Packing: One of the best ways to pay less for your move is to do the packing yourself. This action has the additional benefit of helping you reduce the number of items which you take to your new location. The downside of self-packing is that you will need to do the hard work of finding boxes, labels and packing tape. You will also have the effort of packing items.
The benefit of doing the packing work yourself is that you will have full knowledge of what is being placed in the boxes. This will make unpacking and settling in much easier when moving from New York to North Carolina. Be sure to begin the packing process well to avoid the last-minute pressure & stress before moving day. Labeling the boxes and maintaining a separate inventory of contents is also a critically important process.
Pick the Moving Date Carefully: The busiest time of the moving year is late spring through early fall. If your moving is scheduled for a less busy time you may be able to obtain a discounted price from the long-distance movers.
Supplies: Some sources for moving boxes, tape, are less expensive than others. You might be able to gather some lightly used boxes of the right size and sturdiness at a lower cost, or even free. The other items such as labels, packing materials, and packing tape can be acquired directly if you look for sales or other sources.
Is North Carolina a Good Place to Live?
North Carolina is known for its diverse geography, mild winters, and friendly people. It also has a thriving job market. This makes North Carolina a popular destination for retirees, growing families and young professionals.
How Do I Find Information About Long Distance Movers?
There are hundreds of long-distance movers from which to choose. Picking one which will provide skilled, experienced, and affordable service relies on doing your due diligence. Here are some locations where research can be conducted.
Licensing and Registration:
The US Dept of Transportation and the FMCSA (Federal Motor Carrier Safety Administration) are the agencies which bear the responsibility of oversight of long-distance movers. On the websites you can find the critical information for all the movers.
Consumer Sites and Social Media: With the growth of social media platforms, information about reputation is widely available. In addition to information on social media, the major search engines all provide ranking information. Other information sites about company performance are available at MoveBuddha.org and the Better Business Bureau.
Pricing: When you need additional information about moving from NY to NC, be sure to obtain written quotes. Look at each of the included services before choosing the company. The lowest quoted price is not necessarily the best value for your relocation.
Safeway Moving Systems Named Best in Value
Safeway Moving Systems Inc. (USDOT# 3756000) was selected by MoveBuddha.org as their best overall value for price long distance movers company. The review site noted that Safeway has detailed and strict quality assurance standards. The company website provides information about the top military relocation professional services for moving from New York to North Carolina. Obtain full packing, moving, and storage cost information in writing before making your final decision.